"RPO is a form of business process outsourcing (BPO) where an employer transfers all or part of its recruitment processes to an external service provider. An RPO provider can provide its own or may assume the company's staff, technology, methodologies and reporting. In all cases, RPO differs greatly from providers such as staffing companies and contingent/retained search providers in that it assumes ownership of the design and management of the recruitment process and the responsibility of results."
RPO providers scope of responsibility and accountability is listed below as a sample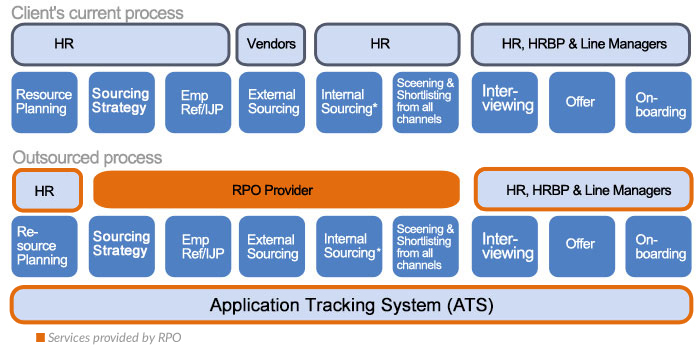 We undertake delivery and accountability of entire recruitment function for the client, from requisition to on-boarding. As an RPO partner for our clients, FlexAbility acts as the company's internal recruitment function and takes entire responsibility of outcomes.

Salient features
1. Single point of accountability for recruitment.
2. Dedicated specialist recruitment team without the headcount cost on balance sheet.
3. Effective, Scalable and Flexible solutions aligned to meet changes in demand.
4. Improving quality, candidate and customer satisfaction.
5. Reducing HR and Hiring manager time spent on recruitment to focus on more consultative/strategic activities.
6. Leveraging supply chain benefits & best practices across our RPO client base enabling continuous improvement.
7. More value for every Rupee spent on recruitment.
8. Transparency and control through recruitment metrics and analytics.
9. Innovation and continuous improvements.
Onsite, offsite or hybrid short term solution to manage recruitment or a part of the lifecycle for a specific business division, function, level, location or duration. FlexAbility assumes responsibility for the part of functions outsourced.

Salient features
1. Helps manage sudden surge in hiring or setting up of a new division under strict deadlines.
2. Overcome bandwidth limitation of existing recruitment team.
3. Used as a pilot to outsource a larger part of recruitment.
4. Augments headcount or space limitations for recruitment team.
5. Management of outcome by service provider.